Excellent airport transfer to and from Istanbul airport

Oct 20, 2021
---
Great experience for my journeys to and from Istanbul airport. Great communication using Whatsapp. In particular the car for my return journey to the airport was VIP standard with a very friendly and professional driver

Excellent Service and very reliable

Oct 20, 2021
---
Transfer booked from airport to the hotel and vice versa, very friendly communication, simple booking, everything as described, very friendly drivers, super reliable, I can only recommend and will book again

Safe Airport taxi service

Oct 20, 2021
---
Very professional service provided , cars were spacious and comfortable and the drivers very polite and friendly- thank you so much

the best transport service

Oct 19, 2021
---
I was surprised by the quality of this transport service that took us from Istanbul airport to our Hotel at night. the driver was very friendly and professional. you pay only when you arive at your destination. I recommand 100%.

Excellent services

Oct 19, 2021
---
Excellent services and always on time. Reasonable prices as well. Thanks to Safe Airport Transfer

Great service

Oct 19, 2021
---
Very nice service. Clean and comfortable car. Price is very good comparing to taxi prices. Drivers are friendly. We use them when we landed, they picked us up and dropped off at our hotel. On the day of our flight back home, they came to hotel pick us up and dropped us off right on time at the airport. Easy, comfortable and convenient.

Great

Oct 18, 2021
---
Transfer was on time, comfortable, fast and had friendly staff. Along with the ride, we also got a bottle of water.

Wonderful experience

Oct 16, 2021
---
When we travel abroad the first thing that comes to our mind is " how do I go from and to the airport safely??" I must share my wonderful experience that I had with Safe Airport Transfer. They were very punctual, the car was clean, the driver was very polite. No complains at all.

Great!

Sep 14, 2021
---
It was very smooth and pleasant experience. The communication is over WhatsApp, the instructions are very clear. Highly recommended!

Fun in Turkey

Sep 6, 2021
---
The pick up and drop off to the airport was great- fantastic way to start off the trip. Our pick up was done on time with good communication. The vans used were both nice and comfortable. The drivers were safe and I will use the service again when I am in Istanbul. The communication was one of my favorite things about this company. They respond quickly and are very helpful and thoughtful.

I recommend them

Sep 4, 2021
---
Professional Safe and great service - Spoke English. Provided clean and new Van. Nice driver, and Very helpful customer service person (Mesut) who was with all all the way til I reached my destination through whatapp. Answered all my questions

professionisti a Istanbul

Sep 3, 2021
---
professionalita puntualita cortesia. Avevo comprato 2 transfers con un app chiamata Transfers.com dove sono stato lasciato a piedi dagli autisti per 2 volte cioè non si sono presentati e ho lottato per avere un rimborso. Safe transfer invece è un ottimo compromesso di qualita prezzo ottimo

On time and reasonable price

Sep 3, 2021
---
Stayed at the Ritz Carlton and scheduled a transfer to Istanbul International Airport. The Driver was on time and communicated with me via what's up application. Very reasonable price, Mercedes mini van vehicle for the transfer. My wife and I were very pleased with this service and will use them again while travel to Turkey.

Excellent, professional service.

Aug 27, 2021
---
We as a family always use Safe Airport Transfer. They provide, efficient, professional and excellent customer service.

Transfert aéroport hotel

Aug 27, 2021
---
Contacté la veille pour le lendemain, ils ont su être reactifs et m'organiser un transfert aeroport sans soucis. Le vehicule etait grand et propre, le chauffeur ponctuel, tres gentil et tres bonne conduite

Great and efficient

Aug 25, 2021
---
Very good service , I arranged airport pickup and drop through the company.got excellent guidelines on pickup location from airport. The drivers are very nice and also arrived before time. Cars are very clean and most important cost was reasonable

Very good experience

Aug 25, 2021
---
The transfer experience was very pleasant. The value was good. I felt very safe and knew the driver took the best route to my destination in Istanbul.

Prático e profissional

Aug 25, 2021
---
Prático e profissional. Tudo como combinado, sem atrasos e carros bons. Estão sempre contatáveis por WhatsApp. Recomendo

Super 100%

Aug 25, 2021
---
Amazing service, very professional and friendly staff. The Mercedes van was very new, clean and super luxurious, both ways from and to the airport. Highly recommend and will definitely use there service again. Thank you

Fast and reliable service

Aug 22, 2021
---
Efficient and reliable service, available 24/7. Saved our family from trouble, when taxi arranged by the hotel did not arrive.
What Do We Offer?
Free baby seat
Pick-up with a name sign
24/7 service
Clean & comfortable vehicles
Polite & helpful drivers
Luggage assistance
Fully licenced & insured cars
No hidden costs
VAT is included
No extra charges due to traffic jam
No extra charges for late arrivals
At Kiev Safe Airport Transfer Service the price you see is the price you pay! We do not charge our customers any extras due to traffic jam. Our operational philosophy is to have no hidden costs!
Kiev Boryspil Airport Transfer Prices
From Boryspil Airport
to
One Way
(4 People Capacity)
One Way
(8 People Capacity)
One Way
(13 People Capacity)
City Center - Train Station
26 EUR
44 EUR
95 EUR
Kiev Zhuliany Airport
28 EUR
44 EUR
95 EUR
Cherkassy City - Uman City
120 EUR
210 EUR
320 EUR
Odessa - Lviv - Kharkiv
280 EUR
480 EUR
850 EUR
Where will we meet you ?
After finishing the passport control procedures and getting your luggage, please look for our driver stating your name outside the custom control. If, for any reason, you are unable to find your name, feel free to call our operations director Mr. Karasu +38 (093) 676 97 26
Borispol Airport Transfer
---
Kiev Borispol International Airport (KBP) is the largest airport of the country. It can also be spelled as "Kyiv Boryspil". There are two passenger airports that serve Kiev and Borispol Airport is the busiest one. It is providing around 60% of the country`s passenger air traffic with over 8 million passengers per year, 20.000 per day.
It is located outside of the city at a distance of 35 kms to the south east from the city centre. There are not much airport transportation options since there's no metro or public buses running. You can get to Kiev either by the airport shuttle, by taking an airport taxi or you can use private airport transfer services.
Borispol Airport Taxi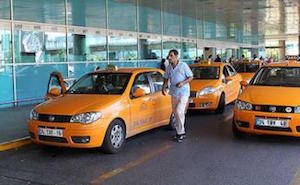 Taking a taxi from Kiev Borispol Airport is one of few options to get to your address. Taxis in Kiev are mostly unofficial. More than 90% of the taxis do not have a taximeter. Taxi fares are calculated by primitive methods such as bargaining. For the locals it is not hard to find a taxi with a fair price but for foreigners bargaining process usually results with high taxi fares. Again, the lack of possibility to make a booking in advance, mostly cause unwanted surprises such as old, unclean and uncomfortable vehicles. Finding an English speaking driver will also be a surprise but this time, a good one... Drivers usually do not speak English or provide luggage assistance. It is not possible to get a baby seat, in case needed.
Borispol Airport Shuttle Bus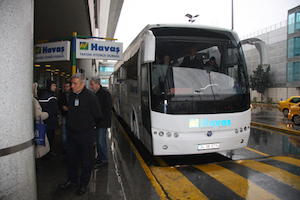 Kiev Borispol Airport shuttle service is one of the common ways to get to Kiev. The buses are located outside the airport terminal. They leave every half or one hour heading to Central Train Station (Vokzal) without stopping at particular stops. After arriving to Central Train Station, you will either need to take a taxi or to use public transportation to get to your final destination as the main train station is not located in the city center of Kiev. Ticket prices are fair. But the buses are usually very old and without air conditioner. The lack of possibility to make a booking in advance sometimes can be a downside as you might have to wait for the next bus. A taxi might be needed in order to get your hotel or accommodation address after getting out of the shuttle. You might also have hard times while carrying your luggages from the airport to the shuttle and from the shuttle to the taxi etc... Airport shuttle services do not provide luggage assistance or baby seats.
Our Borispol Airport Private Transfer Service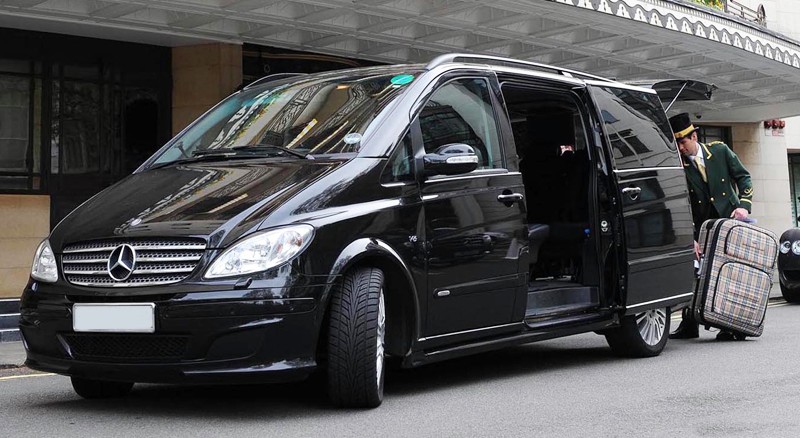 As Safe Airport Transfer company, we provide reliable and comfortable Borispol Airport transfers with affordable prices over a decade. Our services are customer satisfaction oriented and our operational philosophy is to have no hidden costs. With our fully insured, air­conditioned vehicles and friendly staff we are one of the leading companies in the market. As part of our Kiev Airport Transfer services, we provide luggage assistance, free baby seat, 24/7 concierge service and more. Compared to similar Kiev transfer services, we offer more quality and affordability!